A new method for the determination of Fermi vectors from photoemission spectra is presented. It produces Fermi surfaces with high accuracy and reliability even for narrow band systems.

A wide variety of physical phenomena of materials rely on details of the topology of the Fermi surface. However, traditional experimental determinations are restricted to bulk materials. More complex cases, such as superlattices, heterostructures or even clean surfaces can hardly be accessed. In such situations, angle-resolved photoemission spectroscopy (ARPES) has recently been extensively applied to gain insight into the topology of Fermi surfaces.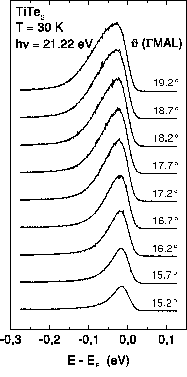 Fermi vectors have been extracted from experimental ARPES data like those shown on the left, employing three kinds of criteria,
maximum ARPES intensity at the Fermi level,
maximum gradient of the energy integrated photoemission intensity, the gradient taken with respect to the wave vector, or
fitting ARPES peak positions over several emission angles and extrapolating the dispersion to the Fermi level.
However, none of these techniques explicitly considers the detailed mechanism of the photoemission process, and the accuracy of the determination has never been questioned. It turns out that there are problems even for extensively studied cases. If photoemission calculations including the complete physics (within the one-step model) are not available, practical procedures for an analysis of high resolution photoemission data are needed.

Such a method is presented here as a result of a strong collaboration between experiment and theory. The new method had to be simple and stable for the necessities of the measurement and reliable from a theoretical point of view. Employing high resolution photoemission spectroscopy we show how surface-parallel components of the Fermi vectors can be determined with high accuracy. Intensity modifications due to the photoemission process are explicitly eliminated by comparing photoemission spectra taken at different temperatures.

If from one of the other methods a rough estimate is known, the Fermi vector can accurately be fixed by subtracting the photoemission intensities for two temperatures. If taken at the Fermi level for different wave vectors in the neighborhood of the estimate, the vanishing of the difference determines the Fermi vectors. This is valid for a variety of spectral functions, including Lorentzians, Gaussians, Voigt profiles, the Luttinger model, a refined Luttinger profile, two dimensional and marginal Fermi liquids.